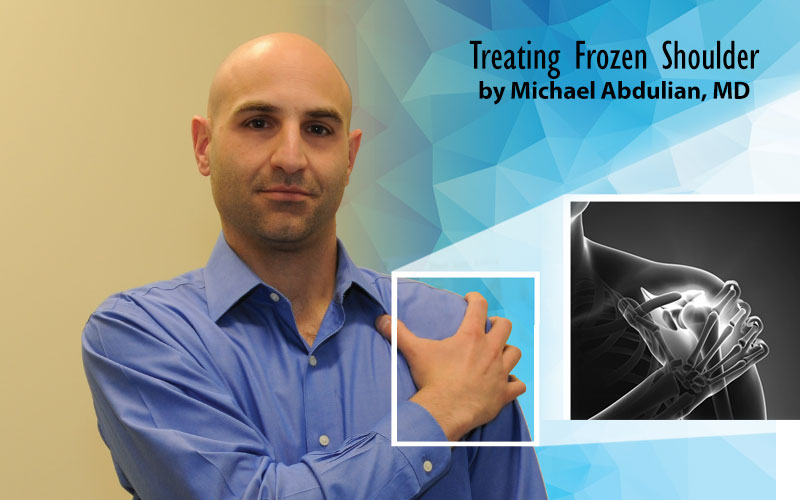 Treating Frozen Shoulder
by Michael Abdulian, MD
Adhesive capsulitis, also known as frozen shoulder, is a condition that presents with pain and progressive limitation of both active and passive shoulder motion. It is a specific pathologic entity in which chronic inflammation of the joint capsule produces capsular thickening, fibrosis and adherence of the capsule to the neck of the humerus. This produces a decrease in shoulder motion. Patients usually present with pain in the shoulder. They complain of night pain and difficulty sleeping on the affected side. Mechanical restraint to passive motion is the hallmark of this disease.
Typically, this affects women age 40 to 60 years. There are numerous associations with systemic conditions such as thyroid dysfunction, diabetes and cardiovascular disease. Diabetes is associated with a significantly worse prognosis and greater need for surgical intervention. There are four stages to the disease. Stage I is considered the pre-adhesive stage, consisting of inflammatory synovitis of the joint capsule without adhesion formation. Patients typically will have full motion but report pain, particularly at night. Stage II is marked by proliferation of the synovium and early adhesion formation. Patients will report pain and have mild motion loss. Stage III is the maturation stage, which involves increased fibrosis of the joint capsule. Pain is less severe but motion is significantly restricted. In stage IV, adhesions are fully mature and motion is severely reduced. Patients in stage IV usually will have painless limited range of motion, but pain will occur when
the arm is suddenly moved beyond the limits of the scarred capsule.
Plain radiographs are usually obtained to confirm the presence of a normal glenohumeral joint, as degenerative arthritis of the shoulder can cause limited motion and stiffness. Magnetic resonance imaging can be useful in cases where there is a question of an associated disorder, such as a rotator cuff tear which can lead to stiffness in the shoulder. However, MRI is not needed to make the diagnosis. Treatment is focused around supervised physical therapy combined with a home exercise program, regardless of stage. Gentle progressive stretching is optimal and is effective in most cases. Nonetheless, patients should be counseled that they can face a prolonged recovery period. For most patients, a supervised therapy program will be successful in treating adhesive capsulitis. Nonsteroidal anti-inflammatory medications may make therapy more tolerable, but they do not have a substantial effect on recovery. Intra-articular and subacromial corticosteroid injections have been shown to produce a transient reduction in pain and may help patients make significant gains with therapy.
Surgical intervention is considered for patients aft er six months of conservative management without improvement. Surgical management of adhesive capsulitis consists of gentle manipulation under anesthesia to break up adhesions, followed by arthroscopic capsular release and lysis of adhesions. It is important to get these patients started into physical therapy immediately after surgery to achieve full motion and prevent the recurrence of the stiff ness. Again, counseling patients regarding the importance of therapy and compliance is paramount to the success of surgical treatment of adhesive capsulitis.